almond

(

al

-m

uh

nd)

: noun

Small bushy deciduous tree native to Asia and North Africa having pretty pink blossoms and highly prized edible nuts enclosed in a hard green hull; either eaten as a nut or used for extraction of an oil for flavoring; cultivated in southern Australia and California.

cocoa butter

(

koh

-koh

buht

-er)

: noun

A yellowish-white fatty solid obtained from cacao seeds and used as an ingredient in cosmetics, tanning oils, chocolate, and soap.

Cocoa butter contains natural antioxidants. The smooth texture, sweet fragrance and emollient property of cocoa butter make it a popular ingredient in cosmetics and skin care products, such as soaps and lotions.

evening primrose

(

eev

-ning

prim

-rohz)

: noun

Any of various North American plants of the genus Oenothera, characteristically having four-petaled yellow flowers that open in the evening. Also called sundrops.

avocado

(av-

uh

-

kah

-doh)

: noun

Also called alligator pear. a large, usually pear-shaped fruit having green to blackish skin, a single large seed, and soft, light-green pulp, borne by the tropical American tree Persea americana and its variety P. adrymifolia, often eaten raw, especially in salads.
Customer Testimonials:
Tried Soap Alchemy's soap for the first time in 2008, I tried it once on very ashy feet and hands, the very first time I saw difference. I didn't have to use Vasoline again. Thank you very much. If it works for me it will work for you.
Maxine J. Pittsburgh PA 2008-12-08
I had heard that handmade soap was good for your skin but had no idea. I was tired of using the standard body washes and then covering my body with lotion. It was a huge procedure everyday just to get showered. Then I used the olive oil soap. I was amazing. I had to work that year in Chicago, living out of a hotel, during the winter period, for 7 months. Knowing how my skin was, I was concerned, but amazingly my skin was fine, clean, smooth, soft and good feeling inspite of the dry hotel air and the winter chill of Chicago. I am hooked. I use your soap for my body, face, hands and my hair. Keep up the good job!!
Jordan H. Pittsburgh PA 2006-03-08


Our Products

Speciality Soap

Baby Almond - Speciality Soap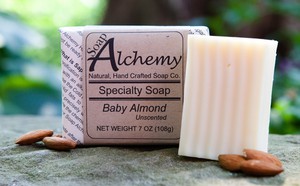 Baby Almond - Speciality Soap
A wonderful unscented bar of the finest oil combinations. A base of Almond, Apricot and Avocado oils, known for their wonderful cleaning yet gentle moisturizing effects. This combination is enhanced with cocoa butter, grape seed and safflower oils and Jojoba oil to round it out.
* One Quarter Moisturizing lotion
* Natural Glycerin
* Vegan Product
* Soy Free Product
* Green, Renewable Ingredients and Manufacturing
* Made in Pennsylvania, American Made
* No Petroleum based ingredients
Ingredients: Distilled Water, Sweet Almond Oil, Evening Primrose Oil, Grape Seed Oil, Palm Kernel Oil, Cocoa Seed Butter, Avocado Oil, Sodium Hydroxide, Jojoba Seed Oil, Sodium Lactate
| | | | | | |
| --- | --- | --- | --- | --- | --- |
| Bath Bar | 1 bar 7.00 oz | | | $10.95 | |
| Facial/Hand Bar | 1 bar 3.25 oz | | | $ 5.95 | |
People who bought Speciality Soap - Baby Almond Also Purchased: