exfoliating

(eks-

foh

-lee-eyt-ing)

: adj.

To remove (a layer of bark or skin, for example) in flakes or scales; peel.

floral

(

flawr

-

uh

l)

: adj.

Of, relating to, or suggestive of a flower.

citrus

(

si

-tr

uh

s)

: noun

Any small tree or spiny shrub of the genus Citrus, of the rue family, including the lemon, lime, orange, tangerine, grapefruit, citron, kumquat, and shaddock, widely cultivated for fruit or grown as an ornamental.
Customer Testimonials:
I just want to take this oppurtunity to say how much I really enjoy you product. I came across your booth at the bazaar flea market in fort lauderdale and purchased your soap. OH MY GOD..... what a wonderful product you have and I absolutely love your soaps. I make it a point to go to the flea market every month to make my monthly purchase and now I give it as gifts to my friends and family. Your online site is also wonderful way to buy gifts and are very fast and efficiant in getting product in the mail. thank you soap alchemy.
Ronald B. Fort Lauderdale FL 2008-12-08
You are probably going to think I am nuts but I have to tell you this. I finally got the opportunity on Sunday to fully shower with your soap and have now been using it for 4 days. I heat my home with wood and winter always brings severely dry skin. Even after slathering my legs with lotion every morning and night I still find my legs itch terribly. After 4 days of using your soap, my legs are no longer itching. The ashy look I usually have on my legs in the winter is gone and I have to attribute this to your soap as that is the only change I have made.
Gayla F. Columbus OH 2010-01-20


Our Products

Basic Castile(Vegan Extra Virgin Olive Oil Soap)

Grape Seed Citrus - Basic Castile(Vegan Extra Virgin Olive Oil Soap)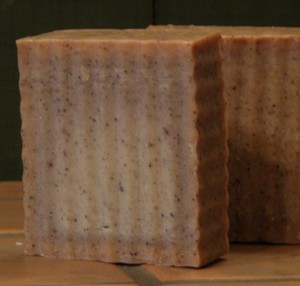 Grape Seed Citrus - Basic Castile(Vegan Extra Virgin Olive Oil Soap)
Our Basic Castile Soap with a wonderful exfoliating bar. We use crushed grape seeds, added to the soap and giving it a rich color. The scent is a sweet floral with a hint of citrus in it. The bar was created for one of our customers who wanted something a little stronger than oatmeal or shredded coconut. Great for use on rough skin areas. Amber loves it by the way.
* One Quarter Moisturizing lotion
* Natural Glycerin
* Part Certified Organic Ingredient
* Vegan Product
* Green, Renewable Ingredients and Manufacturing
* Made in Pennsylvania, American Made
* No Petroleum based ingredients
Ingredients: Soybean Oil, Organic Extra Virgin Olive Oil, Distilled Water, Palm Kernel Oil, Sodium Hydroxide, Babassu Oil, Cocoa Seed Butter, Litsea Cubeba Essential Oil, Ylang Ylang Essential Oil, Lemon Grass Essential Oil, Ginger Root Essential Oil, Crushed Grape Seed, Jojoba Seed Oil, Sodium Lactate
| | | | | | |
| --- | --- | --- | --- | --- | --- |
| Bath Bar | 1 bar 7.00 oz | | | $10.95 | |
| Facial/Hand Bar | 1 bar 3.25 oz | | | $ 5.95 | |