lavender

(

lav

-

uh

n-der)

: noun

Any of various aromatic Old World plants of the genus Lavandula, especially L. angustifolia, having clusters of small purplish flowers that yield an oil used in perfumery; The fragrant dried leaves, stems, and flowers of this plant.

Lavender is used both externally and internally in healing. Externally the essential oil is used in aromatherapy as a relaxant and to improve mood. Aromatherapy can be facilitated through massage, used in the bath, in potpourri jars, and burned in specially-designed oil burners. Lavender is also used to treat fatigue, restlessness, nervousness, and difficulty sleeping. Lavender oil applied to the forehead and temples is said to ease headache.
Customer Testimonials:
For the past 2 weeks, I've been luxuriating in the soaps that I purchased from you. I think I've found NIRVANA! I love the scents, creamy feel and most of all how clean and healthy my skin feels. Thanks for creating such a fabulous line of soap heaven!
Carrie N. Chicago IL 2010-02-05
Keeps my skin and body feeling great.
Phil Boca Raton FL 2007-06-20


Our Products

Top Selling Soaps

Lavender - Basic Castile(Vegan Extra Virgin Olive Oil Soap)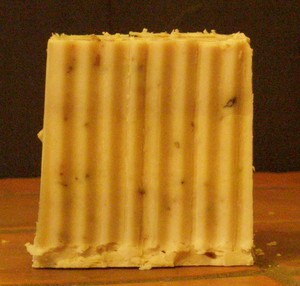 Lavender - Basic Castile(Vegan Extra Virgin Olive Oil Soap)
Our Basic Castile soap with Lavender, which has a wonderful history of over 2500 years. It has been used for antiseptic properties. Back in the 16th 17th centuries, lavender was used in washing to resist infection. Hospitals during WWI used Lavender to disinfect. Lavender has a relaxing calming and uplifting effect. We take our Basic Castile Soap and add Lavender essential oils to it, creating a refreshing Lavender bar.
* One Quarter Moisturizing lotion
* Natural Glycerin
* Part Certified Organic Ingredient
* Vegan Product
* Green, Renewable Ingredients and Manufacturing
* Made in Pennsylvania, American Made
* No Petroleum based ingredients
Ingredients: Soybean Oil, Organic Extra Virgin Olive Oil, Distilled Water, Palm Kernel Oil, Sodium Hydroxide, Babassu Oil, Cocoa Seed Butter, Lavender Essential Oil, Dried Lavender Florets, Jojoba Seed Oil, Rosemary Oil Extract (ROE), Sodium Lactate
| | | | | | |
| --- | --- | --- | --- | --- | --- |
| Bath Bar | 1 bar 7.00 oz | | | $10.95 | |
| Facial/Hand Bar | 1 bar 3.25 oz | | | $ 5.95 | |
People who bought Basic Castile(Vegan Extra Virgin Olive Oil Soap) - Lavender Also Purchased: