citrus

(

si

-tr

uh

s)

: noun

Any small tree or spiny shrub of the genus Citrus, of the rue family, including the lemon, lime, orange, tangerine, grapefruit, citron, kumquat, and shaddock, widely cultivated for fruit or grown as an ornamental.

lemon

(

lem

-

uh

n)

: noun

One of the citrus fruits, from a tree (Citrus limon) of the family Rutaceae (orange family), probably native to India. A small tree (to about 15 ft/5 m tall) with thorny branches and purple-edged white blossoms, it requires a mild, equable climate.

The fruit is high in vitamin content (especially in ascorbic acid, or vitamin C.) Lemon oil, or the essential oil extracted from the skin, usually while green, is manufactured mostly in Italy and France. It is used in the making of lemon extract, perfumes and cosmetics.
Customer Testimonials:
Keeps my skin and body feeling great.
Phil Boca Raton FL 2007-06-20
I don't usually write, but I wanted to let you know how pleased I am with your product. The Lemon Eucalyptus is as relaxing as it is refreshing in the morning shower. I love the creamy rich lather and the fact that even in the winter, my skin is never dry or itch anymore. The Crushed Grape Seed with Citrus is one of my favorites for a hand soap. It's a tough cleanser, yet it never dries out your hands. I hate lotions. They always feel greasy to me. But this soap seems to moisturize, without that greasy feeling. I can't wait to try all the other varieties! I would recommend this soap to anyone!! Great stuff!!!
Erv B. West Mifflin PA 2009-07-01


Our Products

Top Selling Soaps

Lemon Zest - Basic Castile(Vegan Extra Virgin Olive Oil Soap)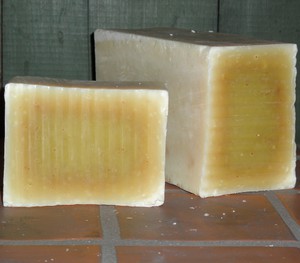 Lemon Zest - Basic Castile(Vegan Extra Virgin Olive Oil Soap)
Our Basic Castile Soap recipe with lemon and lime zest and essential oils giving this bar a clean lemon fresh scent. A nice creamy lather with of lemon and lime zest and a lemon fresh scent.
* One Quarter Moisturizing lotion
* Natural Glycerin
* Part Certified Organic Ingredient
* Vegan Product
* Green, Renewable Ingredients and Manufacturing
* Made in Pennsylvania, American Made
* No Petroleum based ingredients
Ingredients: Soybean Oil, Organic Extra Virgin Olive Oil, Distilled Water, Palm Kernel Oil, Sodium Hydroxide, Babassu Oil, Cocoa Seed Butter, Lemon Essential Oil, Lemon Grass Essential Oil, Litsea Cubeba Essential Oil, Lime Essential Oil, Rosemary Oil Extract (ROE), Jojoba Seed Oil, Sodium Lactate
| | | | | | |
| --- | --- | --- | --- | --- | --- |
| Bath Bar | 1 bar 7.00 oz | | | $10.95 | |
| Facial/Hand Bar | 1 bar 3.25 oz | | | $10.95 | |
People who bought Basic Castile(Vegan Extra Virgin Olive Oil Soap) - Lemon Zest Also Purchased: