mint

(mint)

: noun; adj.

Any aromatic herb of the genus Mentha, having opposite leaves and small, whorled flowers, as the spearmint and peppermint; made, scented or flavored with mint.

oatmeal

(

oht

-meel)

: noun; adj.

Meal made from ground or rolled oats; made with or containing oatmeal.

meal

(meel)

: noun

A coarse, unsifted powder ground from the edible seeds of any grain or any ground or powdery substance, as of nuts or seeds, resembling this.

spearmint

(

speer

-mint)

: noun

An aromatic Eurasian plant (Mentha spicata) having clusters of small purplish flowers and yielding an oil used widely as a flavoring.

It is used as a flavouring for toothpaste and confectionery, and is sometimes added to shampoos and soaps. In herbalism, spearmint is steeped as tea for treatment of stomach ache.

Recent research has shown that Spearmint tea may be used as a treatment for mild hirsutism in women. Its anti-androgenic properties reduce the level of free testosterone in the blood, while leaving total testosterone and DHEA unaffected.
Customer Testimonials:
It's official: I've become a soap snob! :) When I'm out and about I can't stand using the commercial soaps. After using them, my skin feels so dry, tight and yucky! I'm now carrying a baggie with a sliver of my beloved Soap Alchemy with me wherever I go!!! My fave? Avacado Spearmint! Or Lemon Zest! Or Green Tea... and Chamomile! Or Vanilla Oatmeal! Or Shea Butter.... OK, so I can't choose just one!! :)
Amy H. Avon OH 2010-03-10
You are probably going to think I am nuts but I have to tell you this. I finally got the opportunity on Sunday to fully shower with your soap and have now been using it for 4 days. I heat my home with wood and winter always brings severely dry skin. Even after slathering my legs with lotion every morning and night I still find my legs itch terribly. After 4 days of using your soap, my legs are no longer itching. The ashy look I usually have on my legs in the winter is gone and I have to attribute this to your soap as that is the only change I have made.
Gayla F. Columbus OH 2010-01-20


Our Products

Top Selling Soaps

Mint Oatmeal - Basic Castile(Vegan Extra Virgin Olive Oil Soap)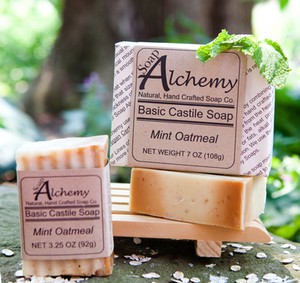 Mint Oatmeal - Basic Castile(Vegan Extra Virgin Olive Oil Soap)
Mint, its wonderful. This is a mixture of Spearmint, Peppermint and other essential oils, giving this bar a nice gentle yet present mint fragrance. Oatmeal is known for its gentle skin conditioning and mild exfoliating properties. Combine the oatmeal with our Basic Castile Soap recipe containing Extra Virgin Olive and cocoa butter oils and you have a great Oatmeal bar for your skin. Made with Gluten Free Oatmeal!!
* One Quarter Moisturizing lotion
* Natural Glycerin
* Part Certified Organic Ingredient
* Vegan Product
* Green, Renewable Ingredients and Manufacturing
* Made in Pennsylvania, American Made
* No Petroleum based ingredients
Ingredients: Soybean Oil, Organic Extra Virgin Olive Oil, Distilled Water, Palm Kernel Oil, Sodium Hydroxide, Babassu Oil, Cocoa Seed Butter, Gluten Free Oatmeal, Peppermint Essential Oil, Spearmint Essential Oil, Orange Essential Oil, Eucalyptus Globulus Leaf Essential Oil, Jojoba Seed Oil, Rosemary Oil Extract (ROE), Sodium Lactate
| | | | | | |
| --- | --- | --- | --- | --- | --- |
| Bath Bar | 1 bar 7.00 oz | | | $10.95 | |
| Facial/Hand Bar | 1 bar 3.25 oz | | | $ 5.95 | |