exfoliating

(eks-

foh

-lee-eyt-ing)

: adj.

To remove (a layer of bark or skin, for example) in flakes or scales; peel.

goat milk

(

goht

milk)

: noun

Milk from the doe or female goat, In soap making, it is used for super-fatting soap which creates a more emollient bar and creamy lather. Goat milk contains 13% more calcium, 25% more vitamin B-6, 47% more vitamin A, 34% more potassium, 350% more niacin, and 27% more selenium than cow milk. Goat milk is also higher in chloride, copper, and manganese.

The milk is naturally homogenized since it lacks the protein agglutinin. The curd is much smaller. The milk also has a more similar makeup (percentage of fats, etc.) to human milk than cows milk.

coconut

(

koh

-k

uh

-nuht)

: noun

The large, hard-shelled seed of the coconut palm, lined with a white edible meat, and containing a milky liquid.

superfatting

(

soo

-per-fat-ing)

: adj.

Leaving some of the oils and fats in the finished soap producing an emollient soap bar.
Customer Testimonials:
You are probably going to think I am nuts but I have to tell you this. I finally got the opportunity on Sunday to fully shower with your soap and have now been using it for 4 days. I heat my home with wood and winter always brings severely dry skin. Even after slathering my legs with lotion every morning and night I still find my legs itch terribly. After 4 days of using your soap, my legs are no longer itching. The ashy look I usually have on my legs in the winter is gone and I have to attribute this to your soap as that is the only change I have made.
Gayla F. Columbus OH 2010-01-20
My husband and I recently tried your soap. I have to say we love it, our dry skin has went away, my husbands calluses had disappeared, and we feel clean when we get out of the shower. Thank you for making such a wonderful, and cleansing soap. We look forward to continuing using this wonderful product.
Jennifier S. Boardman OH 2009-12-08


Our Products

Top Selling Soaps

Pineapple, Shredded Coconut - Goat Milk Soap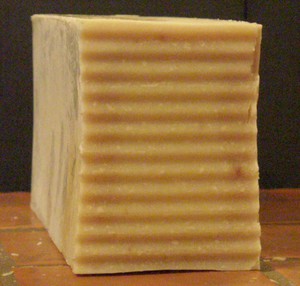 Pineapple, Shredded Coconut - Goat Milk Soap
A nice rich bar, based on our rich Goat Milk base with gentle exfoliation added. The shredded coconut and crushed pineapple will gently help exfoliate. This bar produces a creamy rich lather. The shredded coconut is visible in the bar and will gently rub your skin. Very popular and pleasant bar. The shredded coconut is free of sugar, sodium metabisulfite, propylene glycol, which is normally added to food grade coconut to keep it sweet, white and soft. The pineapple is fresh, not canned.
* One Quarter Moisturizing lotion
* Natural Glycerin
* Green, Renewable Ingredients and Manufacturing
* Made in Pennsylvania, American Made
* No Petroleum based ingredients
Ingredients: Soybean Oil, Coconut Oil, Distilled Water, Sodium Hydroxide, Babassu Oil, Cocoa Seed Butter, Goatmilk, Shredded Coconut, Crushed Pineapple, Rosemary Oil Extract (ROE), Jojoba Seed Oil, Sodium Lactate
| | | | | | |
| --- | --- | --- | --- | --- | --- |
| Bath Bar | 1 bar 7.00 oz | | | $10.95 | |
| Facial/Hand Bar | 1 bar 3.25 oz | | | $ 5.95 | |