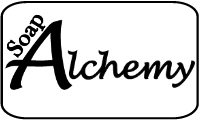 Soap Alchemy Shipping/Returns/Cancellations
Shipping
We are currently running about 2-3 weeks behind in shipping. We are working on getting everything current. Please note the delay but rest assured we will get your order out as quickly as possible. Thank you for your patience.
Soap Alchemy currently only uses the United States Postal Service Priority Mail to ship orders and only ships to customers within the United States. Please contact us at internationalorders@soapalchemy.com if you reside outside the United States and wish to order Soap Alchemy Soap.
Once you place your order, please allow 5-7 business days for the order to be processed, cut, wrapped, packaged and then shipped. Since we use the USPS Priority mail, your order should be at your door within 7 to 10 business days from the date of your payment, (Usually sooner, but just in case....) Once the shipment has left our hands into the hands of the United Stated Postal Service, we expect, but cannot guarantee 2 to 3 business day shipping. You should receive an email from us when we have shipped your order so you can estimate time of arrival once shipment has been sent.
We make every effort to update our shopping cart when we sell out of any particular type of soap, but sometimes a large order, or several orders at once may reduce the available stock on hand of ready to cut and wrap soaps. In this event, we must make some more which can take up to two weeks (from time of production to time it has cured and is ready to go.) If we expect any delays to your shipment beyond the 7 to 10 business days described above, we will attempt to contact you via the email address and/or telephone number you provided at the time of checkout with an estimated time of delivery or to see if you would prefer a different type of soap instead that is on hand.
After a reasonable amount of attempts to contact you, if we are unable to contact you via your email and/or telephone number, we will send you a letter via the billing address you provided at checkout ASAP.
Consummer Returns/ Refunds:
Soap Alchemy LLC wants to make sure that you receive the very best Soap Alchemy products and we take care in the production, cutting, wrapping and packaging of each and every bar of Soap Alchemy Soap.
If you are unsatisfied with your shipment, you will have 30 days from the time of the purchase date to request a refund, return and/or replacement shipment.
If the request is due to an error on our part, such as wrong product, damaged shipment etc, once you contact us with the issue, we will get back to you with instructions on the cost of return shipping. Payments will be refunded via PayPal within 60 days of date of purchase so return shipping must be paid and shipment received back in our shop prior to the end of the 60 day period before refund will be applied. If the original shipment was damaged, we will request original shipment returned to us as soon as possible so we can file a claim with the USPS as well as remake your order or refund your payment.
If, for some reason, your shipment did not arrive in the time frame stated in the Shipping section above and we have not contacted you with a reason why, please contact us as soon as possible so we can investigate. If an act of God or the United States Postal Service has caused your shipment to be lost, we will ship out your order again or issue you a refund of your full payment within 60 days of purchase, at your discretion.
Any other reasons for the return, such as not liking the scent of the soap, changed your mind, etc., will require you to ship the product back to us. A refund for un-opened refunded the purchase price, minus original shipping cost within 60 days of the original purchase.
We do want you to be completely satisfied with your Soap Alchemy Soap and will do everything we possibly can to make it right. Please let us know if there is a problem as soon as possible and we will try to resolve the issue to your satisfaction.
Wholesale Order Returns/ Refunds:
Wholesale orders that have been shipped cannot be cancelled or returned and must be paid in full. If the order has not been shipped, the buyer will be charged a 20% restocking fee on the order. Buyer is responsible for insurance on shipment and responsible for reporting damage to the shipper. Buyer assumes all responsibility.
Custom Order Returns/ Refunds:
Custom work is subject to a cancellation 20% charge after the order has been placed but before production start. If production has been started then the buyer is responsible of 100% of the order. No returns are accepted. Buyer is responsible for insurance on shipment. It is suggested that the buyer pay for a sample prior to the main order to ensure product meets their requirements.